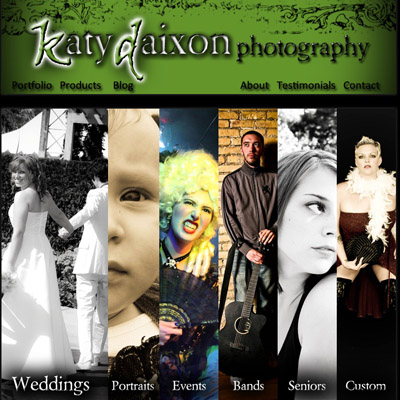 (Clicking the image will open the site in a new window)
Katy Daixon Photography
Services:
Web Design, SEO, Web Marketing, Custom PC Build
The best marker of success in business is a happy client. A happy client is far more apt to suggest your services to their business associates, friends and family. That means making sure we do everything in our power to make for a happy client not only makes for a great experience for you, but just makes good business sense.

"While building my computer, Brad was very dedicated to helping me understand what I was getting and why it was important for my business. It has helped me work more efficiently. Brad was also incredibly patient as I described an ideal website for my company, and he offered helpful feedback for site navigation and intriguing potential clients. The site turned out exactly as I envisioned and my clientele base has doubled since its creation."

- Katy Donalds, owner of Katy Daixon Photography LLC

When Katy Daixon contacted me about creating a web portfolio for her site, we immediately sat down and started discussing what she wanted out of her website. She decided she wanted a portfolio that visually brought users to her photos, rather than the usual "words, links, words" format. As a photographer who emphasizes alternative and customized photo experiences, it makes sense that her site should be just as different as her business.
Katy also realized that she needed a new PC for her increased photo editing needs. We discussed which parts suited her needs for now, as well as her needs for the future. After searching for custom parts to both suit her needs and save her money, Katy Daixon was incredibly pleased with the resulting photo editing workstation that came in roughly $450 under her budget.

Katydaixon.net also benefitted from our web marketing services. Within a month of our instituting her web marketing campaign, she received multiple photo contracts from web "walk-in" traffic alone.